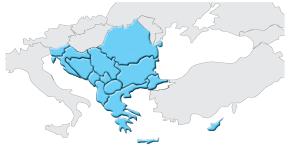 In fulfillment of part of the tasks set under the National Scientific Program "Security and Defense", representatives of the Rakovski National Defence College took part in the scientific conference with international participation  "Shared Resilience of South-Eastern Europe" in the period 30.10.2023  - 31.10.2023.
The official opening of the conference was carried out by Major General Todor Dochev - Commandant of Rakovski National Defence College and the Deputy Minister of Defense Gen. (Res.) Atanas Zapryanov. Participants and guests of the forum were high-ranking military representatives from Georgia and NATO allied countries.
The conference included an opening session, three topic sessions and a roundtable discussions at the Center for the Study of Extremism and Terrorism, which discussed current issues of security and the effects of war.